On 29 July, at the Woodward Canyon Winery in Walla Walla (Washington State U.S.A.) took place the inaugural « Assemblage » of the Washington State Chapter of the Knights of the Vine of America (KoV). In the space of a few years, Washington State has reached the second place as wine producer in the U.S.A. (see www.washingtonwine.org).
KoV Grand Commander Buddy Hagner and Ken Hick, Master Commander of the new chapter presided over the ceremony where 25 new members were inducted, thus making up the founding Knights. Gilles Nicault, a French wine producer from the Long Shadows Winery, was inducted as Vice Commander.
On the occasion of this event, Allen Shoup, an internationally respected wine maker and entrepreneur, was presented with the F.I.C.B. « Diploma of Honor » by Pat Pingitore, Vice president of F.I.C.B. for the U.S.A. Allen Shoup is one of the founding fathers of the Washington State Wine Industry. The Diploma states that « Allen Shoup has contributed eminently to the dissemination of the values of the wine brotherhoods as promoted by the International Federation of Wine Brotherhoods, inter alia through his involvement in the Knights of the Vine of America, thus serving the tradition, the quality and the convivial, expert and reasoned consumption of wine and, and has enabled exceptional, internationally recognized, progress for viticulure and enology in the State of Washington and beyond, namely by developing the Ste Michelle Wine Estates » (Click here for details in the nomination letter and see also : www.ste-michelle.com/)
The event was entertained by concert rock violonist Aaron Meyer and catered by the Walla Walla community college wine country culinary team.
Allen Shoup thus joins the very select group of recipients of the F.I.C.B. Diploma of Honor designed to distinguish the merits of eminent, internationally recognized wine makers and experts who support the values of our wine brotherhoods, group to which belong i.a. Michel Rolland, Jean-Charles Boisset, Gina Gallo and David Guimaraens
(click here for the news section on this site).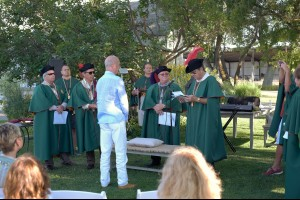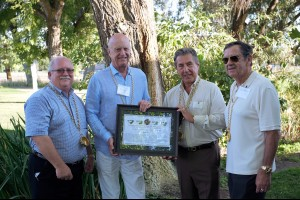 from left to right: Buddy Hagner, Allen Shoup, Pat Pingitore and Ken Hick