With more than 900 wineries, Oregon has become a major player in viticulture in the United States and its wines have acquired an international reputation. Famous for its pinot noir, it has several perfectly suited terroirs.
The Oregon Wine Brotherhood (OWB), over the years, has been able to bring together wine lovers and professionals in the state and has met with growing success. It holds two main events each year: the Spring Assemblage, which is an opportunity to induct new members, and the Fall Barrel Tasting, which features an auction with proceeds going to fund scholarships for wine students. This year's event was held on Sunday, September 11 at Carole and Karl DINGER's Terra Vina Wines estate. With more than 200 participants and nearly $50,000 raised, it was a great success, which illustrates the dynamism of the brotherhood.
During the Barrel Tasting event, Alan BRYDEN, the president of the F.I.C.B., presented the F.I.C.B. Diploma of Honour to Supreme Knight* Denis BURGER (click here to access the biography).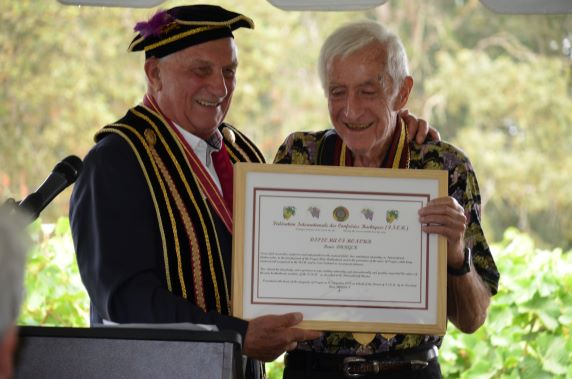 Alan BRYDEN received the OWB "Chevalier d'Honneur"* diploma, which was presented to him by OWB Grand Commander* Ken WIGHTMAN with the assistance of his predecessors Tom HAGEMAN and Sam KRESS.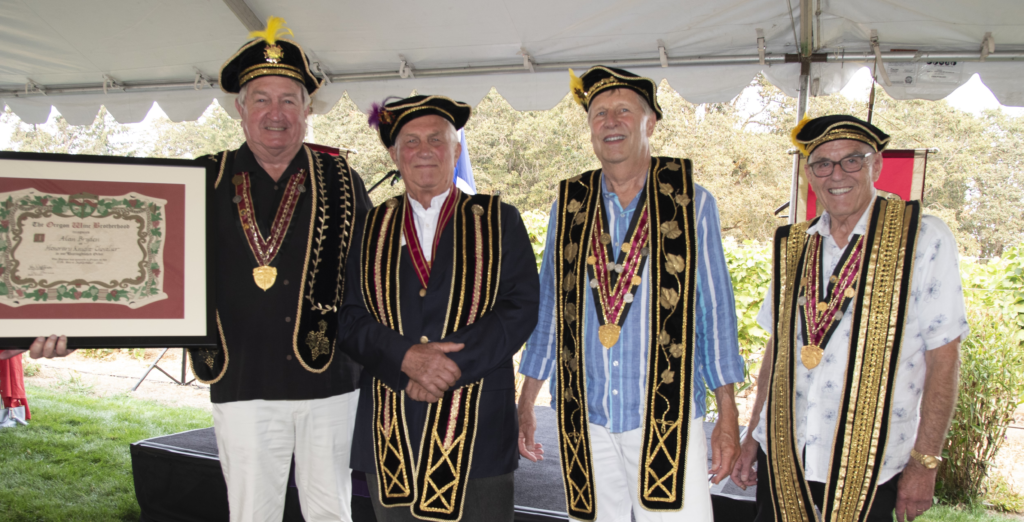 During his stay, Alan BRYDEN visited several wine estates and was able to appreciate the hospitality of Oregon and its vintners (click here for a list of the estates visited). Among these was the estate of Supreme Lady* Susan SOKOL BLOSSER, where Alan BRYDEN took the opportunity to reiterate his congratulations to the owner for the F.I.C.B. Diploma of Honour which she received in 2020 (click here to access her biography)
The OWB is an active member organization of the F.I.C.B., with an important participation of its members in our events. It is represented by Supreme Knight* Ken HICK on our Board of Administration.
Links :
Link: OWB newsletter on the event
OWB: www.oregonwinebrotherhood.org
Vins de l'Oregon: www.oregonwine.org