The F.I.C.B. Diploma of Honor is awarded either to former members of the F.I.C.B. Executive Committee who have contributed to its international notoriety, or to important personnalities globally recognized for their expertise and achievements in relation to wine and who support and share the values of our wine brotherhoods.
On 30 June 2018, the F.I.C.B. Diploma of Honor was presented to M. Jean-Robert PITTE by Alan BRYDEN, the president of F.I.C.B., in the presence of Paul COULON, Vice-president of F.I.C.B. for the South of France. The presentation took place in the context of the 4th « international symposium of enlightened wine connoisseurs » held at the Palais des Papes in Avignon (France). This symposium, presided over by Marcel GUIGAL, the first wine maker and merchant in the Rhône Valley, gathered over 100 participants around the theme of « appellations d'origine contrôlée ». They benefitted from presentations by prestigious speakers such as Jean-Louis PITON, of the French « Institut National des Appellations d'Origine » (I.N.A.O.), Ms Jocelyne PERARD, in charge of the UNESCO chair« Wine and Tradition », Thierry SABON, president of the Fédération des Syndicats de Producteurs de Châteauneuf-du-Pape, Théodore GEORGOPOULOS, president of the Institut Georges Chappaz on vine and wine in Champagne, Philippe FAURE-BRAC, president of the French Union of Sommeliers or Bernard BURTSCHY, president the French wine press association.
Jean-Robert PITTE is a French geographer specialized in landscapes, terroirs and gastronomy. Among many positions, he chairs the French Geographic Society and the French Mission on heritage and food cultures, which supported and obtained in 2010 the listing of the « French gastronomic meal » in the World immaterial cultural heritage UNESCO). He is a member of the Academy of French Wines, which he chaired from 2010 to 2016. He chairs also the festival « books in vines » organized each year at the Château of Clos-de-Vougeot.
Jean-Robert PITTE is Permanent Secretary of the French Académie des Sciences Morales et Politiques. He has lectured and taught in over 30 countries, in particular in Japan where he was made in 2015 a « Distinguished Professor » at the Graduate School of Global Food Resources of the University of Hokkaido. He has been inducted by many wine brotherhoods, i.a. by the Echansonnerie des Papes which presented his candidacy for the F.I.C.B. Diploma of Honour. (Link to Jean-Robert PITTE's biography : https://fr.wikipedia.org/wiki/Jean-Robert_Pitte / Link to the programme of the 4th Symposium of enlightened wine connoisseurs: www.chateauneuf.com/4eme-journees-internationales-des-amateurs-eclaires-de-vin)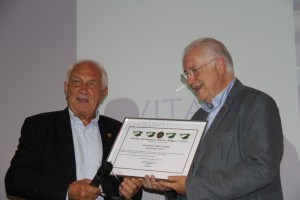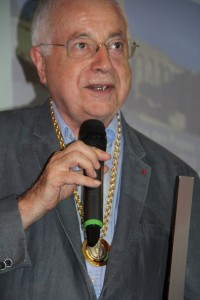 photo credit: Patrick Boué : boue.patrick@wanadoo.fr