David Guimaraens, internationally renown wine maker of the Taylor's, Fonseca and Croft brands of Port wines, received the F.I.C.B. Diploma of Honor on 22 June 2017. The Diploma was presented to him by Alan Bryden, President of F.I.C.B., on the occasion of the annual Chapter of the Port Wine Brotherhood, with over 400 participants in attendance. During this Chapter, F.I.C.B. was enthronized in the Brotherhood as an institution. The Chapter was presided over by George Sandeman, the Grand Chancellor of the Brotherhood, and also Chairman of « Wine in moderation », the international network promoting reasonable consumption, to which F.I.C.B. belongs. Albino Jorge Sousa, Vice-president of F.I.C.B. for Portugal, and Pedro Rego, President of the Portuguese Federation of Wine Brotherhoods, at the origin of the proposal for awarding the Diploma of Honor, were also present.
The new concept of the F.I.C.B. Diploma of Honor was created in 2015. Its aim is to distinguish personalities internationally recognized for their contribution to the production and promotion of quality wines and/or expert wine tasting and who actively support wine brotherhoods and share their values. It is selectively awarded by the F.I.C.B. Executive Committee. Since its creation, it has been awarded, inter alia, to Michel Rolland, Jean-Charles Boisset et Gina Gallo.
David Guimaraens represents the sixth generation of Guimaraens involved in the production of Port wines. He acquired his wine growing and making experience in Australia, California and Oregon, before obtaining a diploma in oenology at the Roseworthy Agricultural College in South Australia , country where he stayed until his return to Portugal in 1990 to join The Taylor Fladgate et Fonseca group. Since, he has been the technical director and the wine maker for the Taylor's, Fonseca and Croft estates. He has conducted research and development which led to new vinification technology through fermentation which have radically enhanced the quality of the wines produced.
David Guimaraens is actively involved in the Port Wine Brotherhood (Confraria do Vinho do Porto) and shares the values of wine brotherhoods, based on maintaining the tradition, encouraging innovation and expert tasting of quality wines.
The annual Chapter of the Port Wine Brotherhood is traditionally held two days before Saint-John's day on which the Brotherhood organizes a spectacular regatta for sailing boats used for the transportation of wine barrels, sailing upstream from the mouth of the river to the center of OPorto. It is estimated that close to one million spectators follow this race and admire the fireworks which illuminate the city the night before.
Related links : www.confrariavinhodoporto.com/ , www.taylor.pt/en/about/taylors-port-team/david-guimaraens/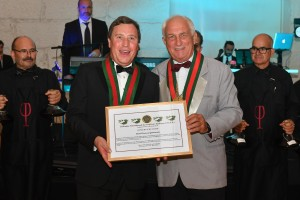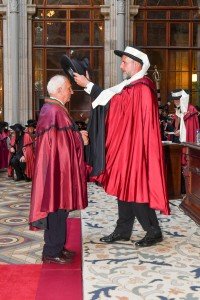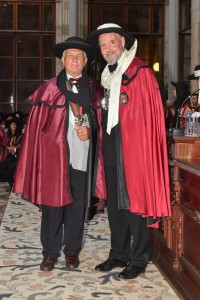 F.I.C.B. is enthronized by George Sandeman, Grand Chancellor of the Confraria do Vinho do Porto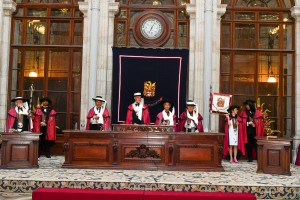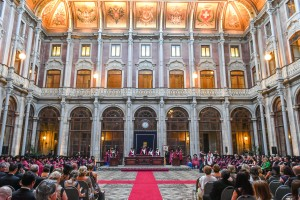 Views of the enthronement ceremony at the Porto Palàcio de Bolsa